For the final two rounds of the 2017 MotoAmerica Superbike season, Josh Herrin was a fill-in rider for Cameron Beaubier, who had injured his shoulder at the previous round at Pittsburgh. Herrin's first weekend on the factory Yamaha YZF-R1 at New Jersey Motorsports Park did not go as well as he'd hoped. He was uncomfortable on the bike, he didn't have any feeling for the rear tire, and he couldn't easily detect when the tire was sliding. And, as soon as he got to full lean in a corner and applied the throttle, he started having problems.
Before the final race weekend of the season at Barber Motorsports Park, and Herrin's second stint on the 2018 factory Yamaha Superbike, Herrin's crew chief Rick Hobbs obtained some rearsets from Attack Performance that Herrin had used earlier that season when he was racing an R1 for Meen Motorsports.
Copying the measurements from the Attack rearsets, Yamaha machined some brand-new rearsets that were 21 millimeters lower than what Herrin had used at New Jersey and what Beaubier had been using all season long prior to that. Yamaha also lowered the ride height of the bike by 20mm. With those two changes, the bike was transformed. Herrin immediately felt comfortable and in control. He could drive off the corners and point the bike where he wanted it to go by using the rear tire.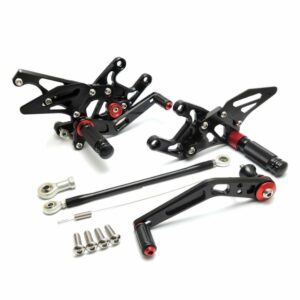 Not only did Herrin benefit from the new rearsets, but his teammate Josh Hayes tried them, liked them, and actually raced with them at Barber to finish out the 2018 season.
"Rearsets" are kind of a fancy name for motorcycle footpegs, but as the above anecdote attests, they are much more than just a couple of pegs where you place your feet when riding a motorcycle. As the name implies, rearsets are generally set further to the rear of a motorcycle compared with the position of the bike's stock footpegs. Of course, that's a sweeping generalization because rearsets are often positioned further back and higher than stock.
Typically, rearsets replace a motorcycle's existing footpegs, rear brake pedal, and gearshift lever, as well as the brackets that hold them together, and they attached to the bike's frame. They are often designed to allow some adjustment so that they can be set exactly where the rider wants them to be positioned.
The most important reason for having rearsets on a road racing motorcycle is to create optimum positioning of a rider's feet and legs when both sitting on and hanging off the bike. Rearsets enable riders to use their feet and legs to hold themselves on their bikes thereby reducing the need to hang on with their arms and hands. This enables riders to focus their arms and hands more on steering the bike, as well as applying the throttle and brakes. It also reduces the strain on riders' bodies, which makes them more comfortable and reduces the energy exerted during the race, or at least redirects it to more important tasks than merely hanging on for dear life.
In addition to providing more stability and comfort for the rider, rearsets increase ground clearance and enable the bike to be leaned over more when cornering, which results in faster cornering speeds and lower laptimes.
And, finally, road racing rearsets deliver more grip. Most stock motorcycle footpegs are covered with rubber pads, which do provide some grip but mostly are there to help quell vibrations that invariably transfer from the engine and chassis through the footpegs and into the rider's feet. Look at road racing rearsets, and you'll see that the surfaces where the rider places his feet are deeply "knurled" or grooved, and you may even see a crew member occasionally using a file or rotary grinder to increase the number of grooves or deepen the ones that are already there—all in the name of creating as much grip as possible for the rider's feet.
To purchase tickets for all MotoAmerica events, click HERE
For information on how to watch the MotoAmerica Series, click HERE
For the full 2020 MotoAmerica Series schedule, click HERE